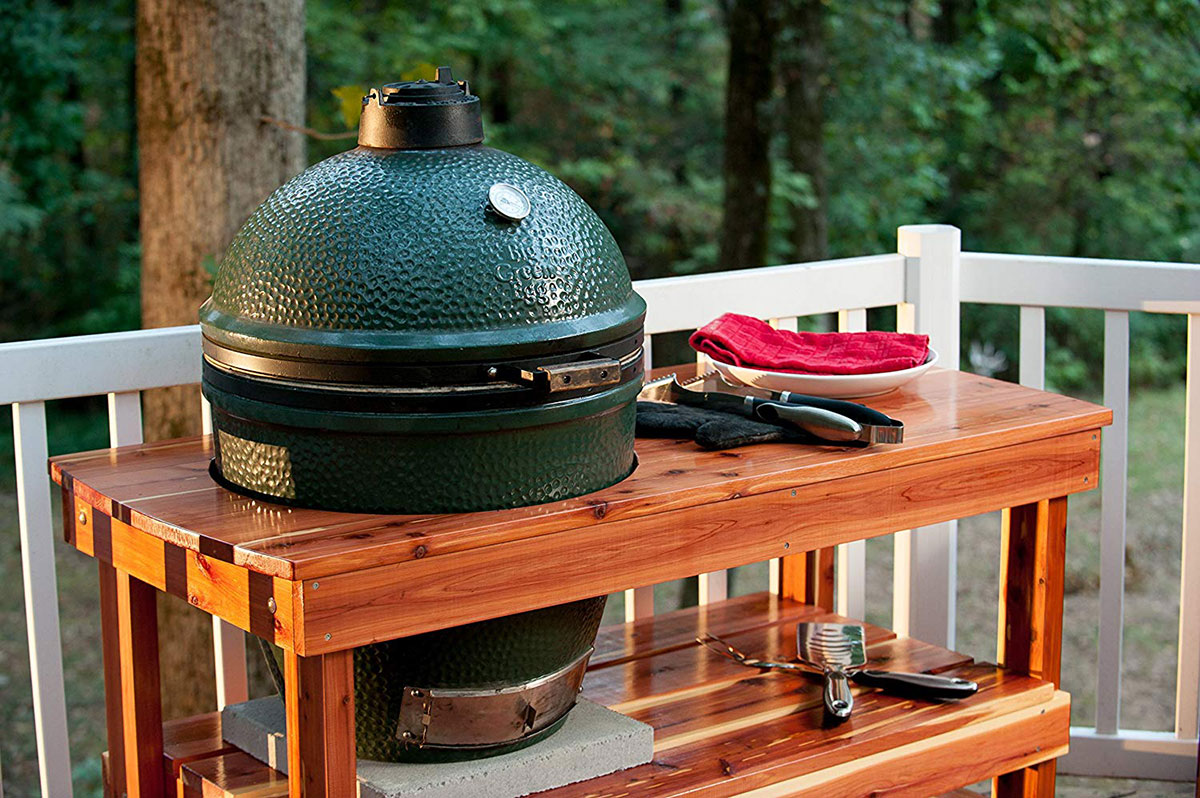 So you have taken the plunge and purchased a BGE, one of the most eggcellent grills ever created by man! Or perhaps you purchased one of the many other kamado style grills on the market. In any case, one of the very first accessories you will need for your big green egg grill is a big green egg stand to hold it and keep it off of the ground or deck.
Green Egg stands come in a few different varieties, such as stationary, wheeled, and full tables. Wheeled stands make moving your green egg much easier and safer, while tables can add style and functionality to your grill area.
I have reviewed the top 4 big green egg stands available on the market to help you choose the right one for your egg!
Quick Comparison of the 4 best Big Green Egg Stands
Big Green Egg Stand Reviews

The first thing you will notice about the JJGeorge big green egg table is that it is gorgeous. The eastern red cedar is finished with a clear spar-urethane that gives it an incredibly smooth and shiny finish. Each table is hand made in the U.S. and truly are works of art.
Mobility
The JJ George table is fitted with high-quality industrial locking casters that enable the table to be moved around with ease.
Size and Dimensions
Coming in at 55 inches long, 25 inches deep, and 32 inches tall, this is by far the largest green egg stand I reviewed. The table gives ample workspace for food preparation and serving as well as raises your egg to the perfect cooking height. Your green egg fits perfectly into the hole in the table, which also adds a bit of style and refinement to your outdoor kitchen area.
Durability
The beautiful eastern red cedar used to build the JJGeorge big green egg table is a durable hardwood that stands up harsh weather, does not warp or rot, and is plenty sturdy to hold your 200-pound grill for years and years. A free canvas cover is also included to protect your table and grill further.
Pros
Absolutely gorgeous craftsmanship
High quality and long-lasting hardwood
Full-sized table allows for plenty of prep space
Wheels allow for the table to be moved
Free Cover
Cons
Expensive
Large size may not be suited for smaller patios and decks
Our Thoughts
If you want the best and have the room for it, then the JJGeorge table what you need. It is, by far, the most attractive and functional big green egg stand that I have ever seen. You are sure to get many compliments for years to come.

If you are looking for a streamlined big green egg stand, or perhaps you don't have enough room for a full-sized table, then the Dracary Rolling cart is a fantastic option for your green egg.
Mobility
The rolling cart from Dracary utilizes four high-quality, 3-inch casters that rotate 360 degrees to allow for an incredibly smooth ride for your grill so that there is no shaking at all when moving your egg around the deck or patio. Two of the high-density urethane wheels lock in place so that there are no accidents while grilling, which is essential because this stand rolls so well that a child could easily push it while the wheels are unlocked. Unlocking the casters can be done directly from the front of the cart.
Size and Dimensions
The Dracary big green egg stand will raise your egg grill approximately 18.5 inches off of the ground, which makes cooking on it much more comfortable. The width of the cart will depend upon the size of your egg. For my large green egg, the stand was about 19 inches wide at the widest point.
Durability
Made of a very durable 0.6cm thick, powder-coated steel, the cart is corrosion and rust-resistant so that it will hold up well to the elements, however, I would suggest using a cover as well. The good news is that your existing cover probably will still fit!
The Dracary rolling cart for big green eggs also sports padded resting brackets and has a double support bar to ensure the safety of your egg.
Pros
High quality, 360-degree wheels ensure smooth and easy movement
Slimline design is excellent for small areas
Cons
Without a cover, over time, the metal could start to rust.
Our Thoughts
The small footprint and the heavy-duty wheels of the Dracary rolling cart for big green eggs make it a fantastic stand for smaller areas or where you need to move your grill out of the way when not in use.

If you don't need to move your BGE around, then you can opt to save a bit of money and go with a big green egg stand that doesn't have wheels like the WRKAMA Kamado Grill Table Nest Stand.
Mobility
The WRKAMA grill stand is stationary and cannot be moved quickly once the grill is on top of it. It has rubber feet to help prevent slipping or skidding on smooth surfaces like tile.
Size and Dimensions
This green egg stand is quite small, coming in at 13 inches in diameter and only about 2 5/8 inches tall. It will not raise your grill up very high, but it will keep it off the ground or deck.
Durability
Made of heavy-duty steel with rubber-coated feet, the WRKAMA stand should last for several years without maintenance or issue. The assembly screws are inset to avoid damaging the ceramic on the grill.
Pros
Small size and footprint works well for small areas
Gets the grill off of combustible surfaces like wooden decks
Inset assembly screws prevent damage to ceramic grills
Cons
Short height doesn't raise the grill to a comfortable cooking height
Our Thoughts
If you do not need a green egg stand that you can easily move and you are happy with the existing height of your grill, then this is a great, no-frills solution to get your barbecue off the ground or deck and allow airflow.

The KAMaster Green Egg Shoes are probably the most adorable option I reviewed. More like a decoration than a big green egg stand, the shoes sort-of give the effect of your grill having little feet.
Mobility
Once set up, the KAMaster ceramic grill feet are not very easy to move. If you want to move it, you need to remove the grill, then move the feet and replace the grill again. So if you need to move your grill often, these may not be the right choice.
Size and Dimensions
The feet are only an inch high, so they will not provide much lift to the green egg to make grilling more comfortable. However, they are sufficient for raising the grill high enough off of combustible surfaces like wooden decks.
Durability
The KAMaster grill feet are made of painted ceramic, so there is no concern of rusting, and they should last a lifetime if they are not dropped or smashed.
Pros
Offers heat insulation to combustible surfaces
Affordable
Ceramic material will not rust or rot
Available in 4 colors
Cons
Does not raise the big green egg to a comfortable cooking height
Our Thoughts
If you only need a big green egg stand to lift your grill off of a combustible surface like a wooden deck or table, then these budget-friendly grill feet by KAMaster are a great option. Also, they look really adorable!
Conclusion: Picking the Best Big Green Egg Stand
Ultimately the type of stand you choose for your green egg will depend upon your needs. That being said, if you have space, I would highly recommend the JJGeorge Big Green Egg Table. On the other hand, if you don't need something mobile and only want to get your green egg off the ground, then there are cheaper options available as well.
No matter which type you choose, always be careful when moving your big green egg since the ceramic can easily break when dropped.
What kind of big green egg stand do you use for your kamado style grill? Let me know in the comments!